With a diverse and easily accessible transportation network, Vietnam offers both locals and tourists the convenience to reach every corner. When visiting Vietnam, consider these local ways of getting around to save time and navigate like a native. Get ready to learn the best ways to travel across the amazing country. Let's dive in and find out how to travel around Vietnam hassle-free!
Transportation in Vietnam
Transportation in Vietnam is diverse and dynamic, with various modes of travel available. From bustling cities to serene countryside, you will find options like buses, trains, flights, and even motorbikes for exploring. The transportation infrastructure is continuously improving, linking major destinations. Additionally, the integration of information technology is notable, with the widespread use of technology platforms for services like ride-sharing and navigation. This blend of traditional and modern elements makes getting around Vietnam an exciting and accessible adventure.
Long-distance Transportation in Vietnam
Exploring far-reaching destinations in Vietnam is made convenient by a range of transportation choices. From efficient domestic flights to comfortable sleeper trains, the country offers diverse options for hassle-free long-distance travel. It makes you clear on the question of how to travel around Vietnam on a budget.
Domestic Plane
Domestic flights are a popular and efficient means of transportation in Vietnam, connecting various regions swiftly. The country boasts a number of airports that serve both international and domestic flights. With around 21 domestic airports, including major cities like Hanoi, Ho Chi Minh City, and Da Nang, travelers have multiple options for air travel.
Several domestic airlines operate within Vietnam, each with its unique features. For instance:
Vietnam Airlines: The national carrier, offering a range of services and routes.
VietJet Air: Known for its affordable prices and vibrant branding.
Bamboo Airways: A relatively new airline focusing on comfort and direct routes.
Pacific Airlines: Providing convenient options and expanding connections.
Vietravel Airlines: A recent addition emphasizing travel packages and seamless journeys.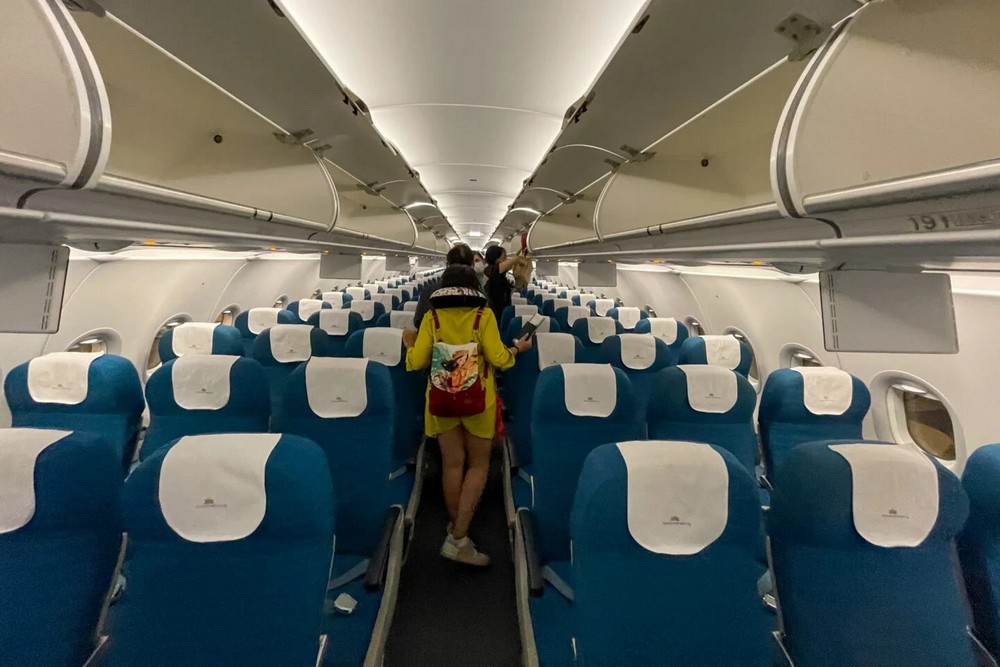 Booking domestic flight tickets can be done through airline websites, travel agencies, or online platforms. Prices vary based on factors like route, time of booking, and class of service. Here is an overview of ticket prices, distances, and flight times for popular routes:
| | | | |
| --- | --- | --- | --- |
| Routes | Distances | Time | Cost |
| Hanoi (HAN) to Ho Chi Minh City (SGN) | 621 – 746 miles | 2 hours | $60 – $200 |
| Hanoi (HAN) to Da Nang (DAD) | 373 – 435 miles | 1.5 hours | $60 – $140 |
| Da Nang (DAD) to Ho Chi Minh City (SGN) | 528 – 590 miles | 1.5 – 2 hours | $50 – $130 |
| Hanoi (HAN) to Phu Quoc (PQC) | 745 – 932 miles | 2 – 2.5 hours | $50 – $200 |
| Hanoi (HAN) to Nha Trang (CXR) | 621 – 745 miles | 1.5 – 2 hours | $60 – $180 |
In addition to transportation, domestic airports provide various services, including lounges, dining options, and shopping, ensuring a comfortable experience for travelers before and after their flights.
Long Bus
Long buses offer an economical and practical mode of transportation across Vietnam's diverse landscapes. With extensive networks connecting cities and popular destinations, they provide an accessible and budget-friendly travel option for both locals and tourists.
Booking long bus tickets can be done through bus stations, travel agencies, or online platforms. Many bus companies offer online booking services like Traveloka, Klook, Vexere, and LuxuryTourVN, allowing travelers to secure their seats in advance. Here's an overview of some famous long bus routes in Vietnam, along with distances, estimated travel times, and average ticket prices:
| | | | |
| --- | --- | --- | --- |
| Routes | Distances | Time | Cost |
| Hanoi to Sapa | 215 miles | 4 – 6 hours | $10 – $20 |
| Hanoi to Halong | 103 miles | 3 – 4 hours | $5 – $15 |
| HCM City to Vung Tau | 75 miles | 2 – 3 hours | $5 – $15 |
| HCM City to Dalat | 186 miles | 6 – 7 hours | $10 – $30 |
Long buses come in various configurations, including reclining seats and sleeper berths. Onboard amenities can range from air conditioning and Wi-Fi to blankets and refreshments. Some long-distance buses even offer entertainment systems: TV, karaoke, colorlight to make the journey more comfortable.
Overall, long buses in Vietnam provide a cost-effective way to explore the country's scenic routes and cultural destinations, allowing travelers to connect with local communities along the way.
Train
Trains offer travelers a scenic and leisurely way to experience Vietnam's landscapes. From lush countryside to vibrant cities, train journeys provide a unique perspective of the country's beauty and culture. Trains are also considered relatively comfortable, making them a favored choice for long distances.
Booking train tickets can be done through train stations, travel agencies, or online platforms. Vietnam Railways, the national railway company, offers an online booking system for convenience. Here is an overview of some popular train routes in Vietnam, along with distances, estimated travel times, and average ticket prices:
| | | | |
| --- | --- | --- | --- |
| Routes | Distances | Time | Cost |
| Hanoi to Hue | 413 miles | 12 – 14 hours | $20 – $50 |
| Hanoi to Da Nang | 468 miles | 14 – 16 hours | $20 – $60 |
| Hanoi to Hai Phong | 62 miles | 2 – 3 hours | $5 – $15 |
| Dalat to HCM city | 205 miles | 7 – 9 hours | $15 – $40 |
| Da Nang to Nha Trang | 272 miles | 9 – 11 hours | $15 – $45 |
Vietnamese trains typically offer different classes, including hard seats, soft seats, and sleeping berths. The quality of service and amenities can vary between classes, but most trains provide clean compartments, air conditioning, and dining services for passengers' comfort.
Whether you are looking for a relaxed journey or a way to admire the country's landscapes, train travel in Vietnam is the best way to get around and offers a memorable and enjoyable experience.
Short-distance Transportation in Vietnam
Discover how to travel around Vietnam on a budget with ease through short-distance transportation options
Taxi
Taxis are a convenient way to move around cities and towns in Vietnam. With their wide availability and the rise of ride-sharing apps like Grab, getting a taxi is quick and reliable. You can book a taxi through these apps or by flagging one down on the street.
Here are some famous taxi routes in Vietnam, along with distances, estimated travel times, and average fares:
| | | | |
| --- | --- | --- | --- |
| Routes | Distances | Time | Cost |
| Hanoi to Halong Bay | 95 miles | 2 – 3 hours | $25 – $40 |
| Hanoi to Hai Phong | 62 miles | 1.5 – 2 hours | $20 – $35 |
| Hanoi to Trang An | 55 miles | 2 – 2.5 hours | $20 – $35 |
| Hanoi to Lan Ha Bay | 138 miles | 3 – 4 hours | $30 – $35 |
Whether you are a local or a visitor, taxis offer a convenient and private way to explore Vietnam's urban areas.
Public Bus
Public buses are an affordable and widely used mode of transportation in the city, serving both locals and tourists. Tickets can be bought at stops or stations, offering an accessible way to explore the city. Ticket prices range from $0.3 to $1.3. Additionally, there are two types of buses in Vietnam: traditional gasoline buses and electric buses operated by VinBus. VinBus also offers electric taxis and electric ride-hailing motorcycles as part of their eco-friendly transportation options.
Public buses offer a simple experience with essential amenities like air conditioning. They provide an authentic way to connect with local life and explore Vietnam's cities on a budget. Moreover, it's worth noting that buses can get quite crowded during peak hours, and you should not bring too much luggage during this time due to the large number of passengers.
Motorbike
Motorbikes are a popular choice for navigating Vietnam's busy streets and exploring remote areas. They are the most popular means of personal transportation in Vietnam. They offer flexibility and a local experience, making them a preferred mode of transportation for both locals and tourists. To rent a motorbike, you can find rental shops in cities and tourist spots, with costs varying based on the type of bike and rental duration.
For example, a motorbike journey from Hanoi to destinations like Ha Giang, Son La, and Đien Bien could take around 6 to 12 hours, with rental costs ranging from $5 to $15 per day and fuel costs varying based on distance.
While motorbikes provide freedom, ensure safety by wearing helmets and appropriate gear. Remember to follow traffic rules and consider road conditions for a secure and memorable exploration of Vietnam's diverse landscapes.
Ride-hailing services
Ride-hailing services like Grab, Be and Gojek have transformed transportation in this country, offering an efficient and secure way to navigate cities. These apps are widely used by locals and tourists alike, allowing you to book rides easily and estimate fares upfront.
To use ride-hailing services, download the app, register, and enter your destination. You can choose from various vehicle options based on your preferences.For short distances within cities, estimated fares range from $2 to $5, and travel times are around 10 to 20 minutes.
For those seeking a modern and seamless transportation experience in Vietnam's bustling cities, ride-hailing services offer a reliable and user-friendly solution, allowing you to reach your destination with ease. And it's essential to check the license plate, vehicle type, and driver's appearance before hopping on to ensure you're getting onto the right motorbike taxi.
Other Transportation in Vietnam
In addition to the well-known modes of transportation, Vietnam offers a range of other options for getting around. These alternatives include unique and local methods of travel that provide distinct experiences while traversing the country's landscapes and cultural destinations.
Cyclo
Cyclos, traditional pedicabs, offer a unique and nostalgic way to explore Vietnam's cities. While less common nowadays, they can be found in Hanoi, Hue, and HCM city, providing a leisurely pace to enjoy the surroundings. To hire a cyclo, negotiate fares with drivers based on distance. Short city tours might cost around $5 – $10 for 3 – 5 km or $3 – $5 for 1 – 2 km in places like Hanoi's Old Quarter. Cyclo rides offer a personalized and relaxed experience, making them a charming choice for exploring local culture.
Ferry/ Boat
Ferries and boats serve as essential transportation options in Vietnam, connecting islands, riverbanks, and Mekong Delta areas. These modes of travel are crucial for locals and tourists alike to access remote destinations and experience the country's stunning waterways.
To rent a private boat or use a ferry, you can inquire at local ports, particularly in regions with water-based transportation. Prices can vary based on the type of vessel, distance, and availability of services on board. Here's an overview of estimated costs, distances, and travel times for boat journeys in Vietnam:
Mekong Delta boat tour: Various routes are available, with half-day to full-day tours. Prices range from $10 to $50, depending on the tour length and inclusions.
Phu Quoc Island ferry: Routes to the island from mainland ports, approximately 2 – 3 hours. Prices vary based on departure point and services offered.
Boat services often provide refreshments, local guides, and opportunities for sightseeing. Embracing the waterways of Vietnam through ferries and boat tours allows you to witness the nation's picturesque landscapes, unique floating markets, and vibrant local communities, making it an enriching aspect of your travel experience.
Halong Cruise
Halong Bay cruises provide an enchanting way to experience the beauty of Vietnam's famous bay. These cruises offer close encounters with its limestone formations and fishing villages. To book, choose from various operators in Halong City, with prices varying based on cruise type and duration.
Day cruises, lasting 4 – 6 hours, cost around $30 – $70. Overnight options, spanning 1 to 3 days, range from $100 to $500+, based on a luxury level.
Cruise services encompass local meals, cave visits, kayaking, and swimming. High-end cruises also offer luxury accommodations. Exploring Halong Bay by cruise provides relaxation and adventure, promising an unforgettable experience of Vietnam's natural marvels.
Tips for Using Transportation in Vietnam
Embracing these practical tips for using transportation in Vietnam is the best way to travel around the country smoothly and make the most of your journey.
Research and Plan Ahead: Before you arrive, familiarize yourself with the transportation options available in each region you plan to visit. This will help you choose the most suitable mode of travel for your needs.
Learn Basic Local Phrases: Knowing a few local phrases can be incredibly helpful, especially when communicating with drivers or asking for directions. Absolutely! Here are the ways to ask for directions in Vietnamese along with their corresponding pronunciations:
"Tôi muốn đi…" means "I want to go to…"
-> Pronunciation: /tɔɪ mwən ɗi/
"Chỉ đường cho tôi với" means "Can you give me directions…"
-> Pronunciation: /ʧi 'ɗuɔŋ ʧɔ 'tɔɪ vɔɪ/
"Đi hướng nào để đến…" means "Which direction to go to…"
-> Pronunciation: /dɪ 'dʊŋ naʊ dɛɪ dɛn/
Book in Advance for Long Journeys: If you are planning a long-distance journey by train or bus, consider booking your tickets in advance, especially during peak travel seasons.
Keep an eye on your belongings, purchase travel insurance, thoroughly inspect the vehicle's condition when booking/renting, and acquire tickets from reputable sources with years of experience or through recommendations from acquaintances.
Stay Updated on Traffic: Traffic can be unpredictable in cities like Hanoi and Ho Chi Minh City. Use real-time navigation apps to avoid congested routes.
In conclusion, navigating transportation in Vietnam can be an enriching part of your travel experience. From bustling cities to serene landscapes, the country's diverse modes of transportation offer a unique way to connect with its culture and people. By considering the various options, planning ahead, and following these valuable tips, you will be well-equipped how to travel around Vietnam with ease and create lasting memories along the way. Safe travels!
Stay updated with other blogs on our website and explore Vietnam tours for your trip to Vietnam and Indochina!