Vietnam is a country famous for its extremely rich and diverse culinary scene. Super chef Gordon Ramsay, one of the most famous chefs in the world and owner of a series of Michelin-starred restaurants, has rated Vietnam as one of the top 3 best food destinations in the world (along with Laos and Spain). This confirms that Vietnamese cuisine is definitely worth a try. If you are in this beautiful country and don't know how to fully enjoy the cuisine here, let Eviva help you discover the most classic Vietnamese dishes to answer the question of what to eat in Vietnam.
Besides, if you are referring to Vietnam culture tours and in need of a caring local friend to support you when visiting Vietnam, contact us for any personal preferences!
Vietnamese Cuisine is Unique – It Balances Five Tastes
Vietnam's food culture is perfectly balanced with five basic flavors: sour, spicy, salty, sweet, and bitter. An important component of Vietnamese cuisine that helps achieve this perfect flavor balance is the fish-fermented sauce. Fish sauce is frequently used in most Vietnamese dishes, making the food richer and imbued with a distinctive unforgettable flavor.
The variety of accompanying ingredients (spices) used in Vietnamese cuisine is incredibly diverse, including:
Many herbs such as cilantro, Vietnamese balm, Vietnamese mint, onions, leeks, and Vietnamese coriander…
Plant-based spices such as chili, pepper, lemongrass, scallions, garlic, ginger, lime…
Fermented spices such as shrimp paste, rice vinegar, apple cider vinegar, bitter candy, coconut milk…
The saltiness of ingredients such as fish sauce, soy sauce, and shrimp paste provides a savory depth that adds complexity to dishes, highlighting the flavors of meat and vegetables. Meanwhile, the sweetness comes from ingredients like sugar, coconut milk, and fruits, balancing out the salty notes and softening the bitterness.
Bitterness may seem like an unwanted flavor, but it is a vital element in many Vietnamese dishes. It adds a subtle but pleasing bitterness to leafy greens like water spinach or mustard greens, and it also gives herbs such as turmeric and cilantro their unique complex flavors.
The sourness of lime juice, tamarind, and vinegar brings a refreshing tang to many dishes, cutting through the richness of meat or balancing the spiciness. And finally, the heat of chili peppers adds a fiery kick to dishes, making them unforgettable and addictive.
These essential flavors are like notes in a symphony, complementary and harmonious, working together to create a culinary masterpiece. The balance of flavors is a hallmark of Vietnam food culture, and it is why the best meals leave a lasting impression on all who taste them.
10 Vietnam must-try dishes
In Vietnam, wherever you go, you can find good restaurants, alfresco eateries, or street food vendors. If you are unsure what to eat in Vietnam, refer to the 10 most famous food in Vietnam below:
 1/ Banh mi – The Vietnamese Bread
A delicious grab-and-go meal that amazes people with the crispy crust perfectly combined with the soft and savory texture of the filling inside. The dish originates from the French baguette, then transformed into the Vietnamese version when it is baked to become soft and crunchy, cut in half, and filled with various types of meat like pork, meatball, pate, Vietnamese patty, and fresh herbs like cilantro, mint, and pickled vegetables like carrots and cucumbers.
Price: 15,000 – 70,000 VND (from 0.6 – 3 USD)
Try it: Banh Mi Huynh Hoa (Ho Chi Minh City), Banh Mi Grandma Lu (Ho Chi Minh City), Banh Mi Phuong (Hoi An), Banh Mi 25 (Hanoi).
2/ Pho – The Vietnamese Rice Noodle Soup with Beef or Chicken
No Vietnamese food tour can ever be complete without Pho, as it is a traditional food in Vietnam, crystallizing the essence and history of Vietnamese cuisine. This Vietnamese dish originated in Hanoi and was first served to diners in the early 20th century.
Pho is made with rice noodles (made from rice flour), a broth that is cooked using beef or chicken bones, meat, spices, and various herbs such as coriander, cilantro, and onion. The secret to a delicious bowl of Pho lies in the broth. The broth for Pho is cooked for several hours with a combination of various spices to bring out the distinct flavor of the dish. Typically, the broth is seasoned with star anise, cinnamon, and cloves to add a natural sweetness to it. When serving, people often add raw herbs, lime, fried garlic, and chili sauce to enhance the flavor of Pho.
Price: 30,000 – 90,000 VND( from 1.3 – 4 USD)
Try it: Pho Bat Dan, Pho Thin, Pho Ly Quoc Su (Hanoi); Pho Dan, Pho Sinh, Pho Tao (Nam Dinh).
3/ Bun Cha – Grilled Pork with Vermicelli Noodles
When talking about traditional food in Vietnam, one cannot ignore Bun Cha, which is considered one of the most popular and oldest dishes of Northern Vietnamese cuisine. The dish gained international recognition in 2016 when it was featured on the show Parts Unknown, where host Anthony Bourdain enjoyed Bun Cha together with former President Barack Obama.
The ingredients of Bun Cha include grilled pork patties, sliced pork belly, rice vermicelli, fresh vegetables (lettuce, herbs, perilla leaves, bean sprouts), and a dipping sauce (made from fish sauce, sugar, vinegar, chili, and garlic mix with chili, garlic, carrot, and green papaya). When eating Vietnamese food, one should put all the main ingredients into a small bowl and fill it with fish sauce.
Price: 35,000 – 60,000 ( from 1.4 – 2,5 USD)
Try it: Bun Cha Huong Lien (also known as Bun Cha Obama), Bun Cha Sinh Tu, Bun Cha Dac Kim (Hanoi)
4/ Goi Cuon – Fresh Spring Rolls
Goi Cuon is an indispensable answer to the question of what to eat in Vietnam. Goi Cuon is a type of roll that is made with rice paper, and stuffed with shrimp, pork, vegetables, and herbs. To make its outer layer, people take sheets of rice paper and soften them with a little water, then roll them neatly around the main ingredients.
There is a special sauce for diners to eat with this Vietnamese food. It is fish sauce mixed with crushed garlic, chili, and lemon juice so it has a very distinct taste. In addition, rich peanut sauce is another great suggestion to dunk Goi Cuon in.
Price: 25,000 – 75,000 VND ( from 1 – 3,2 USD)
Try it: Quan An Ngon, Cuốn N Roll, Quan ngon Ms.Dung (Hanoi), Goi Cuon Le Van Sy, Goi Cuon Tom Nhay (Ho Chi Minh City)
5/ Bun bo Hue – The Hue Style Beef Noodles
Representing the imperial cuisine of Hue, Bun Bo Hue has a flavor that will make any traveler who tries it swoon. A bowl of bun bo Hue consists of vermicelli noodles, beef, pork jelly, crab cakes, and broth. The vermicelli noodles are specially made with a mixture of rice flour and high-quality wheat flour in the right proportions to achieve the right level of elasticity.
The highlight of this Vietnamese dish is the thick vermicelli noodles and the thin yet substantial slices of beef, along with the tangy and spicy red-orange broth that is so enticing. To cook this specialty dish, the chef needs to be meticulous in selecting ingredients and blending them.
Price: 40,000 – 60,000 VND ( from 1,7 –  3 USD)
Try it: Bun bo Hue O Cuong, Bun Bo Hue O Phuong, Bun Bo Hue O Hoa (Hue).
6/ Com tam – Broken Rice
Atlas Taste, a website known as the "world cuisine map", has recently announced the list of 100 best dishes in the world made from rice, and among them, broken rice ranks third. This dish's main ingredient is broken rice, and it is a harmonious combination of ingredients including fried eggs, pork skin, grilled pork ribs, or fried fish cake, served with crispy shallots and some pickled vegetables such as turnips, carrots, tomatoes, cucumbers, or papayas, and cannot be lacking fish sauce, the soul of Vietnamese broken rice dish.
Price: 25,0000 – 100,000 VND (1 – 4 USD)
Try it: Com Tam 352, Ba Ghien, Com Tam Bai Rac (Ho Chi Minh City).
7/ Banh Xeo – Vietnamese Crispy Pancakes
Banh Xeo is loved by many tourists when they visit the country. In fact, this dish is inspired by the French crepe and originated from Central Vietnam.
The batter is marinated in coconut water, giving Banh Xeo a characteristic fragrant taste of Vietnam. A good Banh Xeo is a crispy crepe bulging with pork, shrimp, and bean sprouts, plus the garnish of fresh herbs that are characteristic of most authentic Vietnamese dishes.
This dish is served with a characteristic sweet and sour dipping sauce or spicy chili sauce, increasing the salty, sour, and spicy flavors. The proper way to enjoy this dish is to wrap it in rice paper and dip it in fish sauce before eating it crispy.
Price: 15 000 – 50 000 (from 0.6 USD)
Try it: Banh Xeo Ton Duc Thang, Zon Pancake, Mr.Bay Mien Tay (Hanoi).
8/ Xoi – Sticky rice
Xoi originated in Vietnam and is regarded as a familiar dish during family meals and festivals. This is typically made from glutinous rice, water, salt, and a variety of supplementary ingredients, depending on the specific type of Xoi. These additional ingredients may include mung beans, sugar, coconut, peanuts, eggs, and more. Xoi can come in many different types and colors, including purple sticky rice, durian, bamboo tube, peanut, and others. There are sweet sticky rice or savory sticky rice with Steam pork rolls, Vietnamese ham, caramelized braised pork belly, quail egg, etc.
The dish is also popular in many other Asian countries such as Thailand, Indonesia, and the Philippines.
Price: 15,000 – 50,000 VND  ( from 0.6 – 2 USD).
Try it: Xoi Yen, Xoi Co Kim (Hanoi), Xoi Binh Tien, Xoi ga 310 Tan Dinh (Ho Chi Minh City).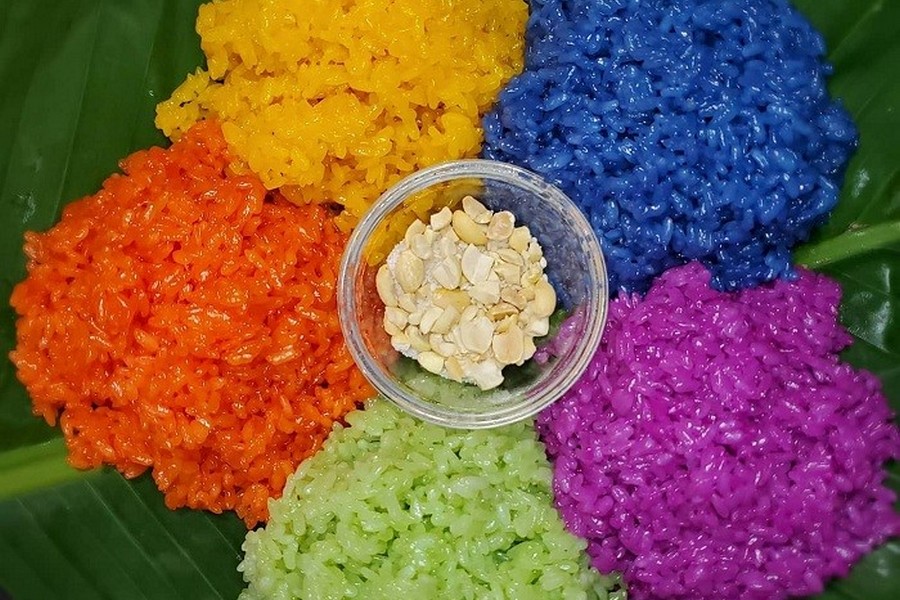 9/ Cha Ca – Grilled Chopped Fish
This dish is made from marinated and grilled slices of fish, then fried in oil, and was created by the Doan family at house number 17 Cha Ca Street in the old quarter in 1871, and named after it.
Cha ca is mainly made from Lang fish, so the meat is firm and does not fall apart when flipped in the hot oil pan. The fish slices are of suitable size, when fried they are golden and crispy on the outside, and soft and delicious on the inside thanks to the secret spices.
Cha ca is served with rice vermicelli noodles, mint leaves, roasted peanuts, fresh onion leaves, dill, and shrimp sauce. The cook makes the sauce by combining sugar, shrimp paste, rice wine, hot oil, and chili, and then stirring well. The fatty and sweet fish slices with the fragrant smell of herbs and peanuts, along with the flavorful shrimp sauce, will make you crave more.
Price: 130,000 – 300,000 VND (5.5 – 12.8 USD)
Try it: Cha Ca Thang Long, Cha Ca Kinh Ky, Cha Ca Anh Vu (Hanoi)
10/ Che – Sweet Dessert Soup
Last on the list of what to eat in Vietnam is Che – Vietnamese sweet soup is a popular dessert in Asian cuisine. There are many different types of sweet soups in Vietnam, each with its own unique flavor and texture. Some of the most common ingredients include mung beans, black beans, lotus seeds, tapioca pearls, sticky rice, coconut, sweet corn, fruits, jelly, etc. These ingredients can be eaten separately or combined with each other.
Che can be served hot or cold with ice. It is a famous food in Vietnam to cool down and refresh oneself. Not only is sweet soup delicious, but it also provides many nutritional benefits for the body. As a result, it has become a popular dish in Vietnamese cuisine and is a must-try when visiting Vietnam. Come and try this sweet and delightful dish!
Price: 10,000 – 35,000 VND (0.4 – 1,5 USD)
Try it: Che Hem, Hue royal Che, Che Cam (Hue), Che 4 seasons, Xoi che Ms. Thin (Hanoi)
Tips to fully enjoy Vietnamese Cuisine
Choose crowded restaurants: crowded restaurants can offer a lively and energetic atmosphere, which some people may enjoy. Restaurants that are consistently busy when you walk in could be an indication of quality food and service. After all, it is all up to you to choose a place that best suits your preference and standard.
Read and learn about the dishes: Before indulging, learn about the ingredients, cooking methods, and serving style of the dish. This will help you understand how to properly enjoy and taste it.
Enjoy with spices: If the dish comes with herbs, cucumber, garlic, chili pepper, etc., make sure to try this combination as it enhances the overall taste of the dish.
Pair with drinks: Drinks such as sugarcane juice, smoothies, local teas, soy milk, beer, wine, etc. are also an important part of Vietnamese cuisine. Choose the appropriate drink for each dish to balance and elevate the flavors.
Vietnamese cuisine is extremely diverse, so you can research and choose dishes that align with your personal preferences to have the best personal experience.
Conclusion
The 10 dishes representing Vietnam's culinary culture mentioned above are definitely an excellent answer to the question of what to eat in Vietnam. Vietnamese cuisine is amongst the best in the world – the opinion of many experts has affirmed this. Come and explore this world-renowned cuisine to have amazing experiences, going from one surprise to another, leaving you with unforgettable impressions of wonderful taste!