Like the friendly Vietnamese people, exotic fruits greets you in almost every corner of Vietnam. The country's fertile deltas and tropical climate, as well as its more temperate plateaus, means that a whole lot of species, fruit-bearing ones would thrive here. In fact, Vietnam ranks among top bio-diverse countries regardless of its small land area.
Not only are fruits packed with a bunch of vitamins and flavors, but they also have very good prices here. What a better way to rehydrate yourself with this superb healthy snack? If you are looking for tropical fruits to try in Vietnam, look no further as this article is about the lush exotic world of Vietnam's fruits!
Mangosteen | Măng Cụt – the Queen of tropical fruits
Fresh mangosteen is quite rare outside Southeast Asia, so it is definitely a must-eat. Mangosteen looks like a giant purple nut, its thick rind protects the juicy white flesh inside. Take a section and pop into your mouth, and you will love the distinctive sweet and sour flavor that reminds strawberry and grape.
How to pronounce it: Măng cụt (mang kut)
Mangosteen season: mid-April to August
How to try it: Eating raw or juicing
Custard apple | Na in the North, Mãng Cầu in the South
Custard apple, sometimes called sugar apple, is rich and creamy, full of antioxidants and vitamin C. It has quite an interesting appearance, with grainy "eyes", which will turn from green to white when ripe. Peeling its skin, the inside is sweet and fragrant with notes of melon, apple, and custard.
How to pronounce it: Mãng Cầu /mang kou/ or Na /na:/
Custard apple season: late July to early September
How to choose and try custard apple: Pick ones that are firmer and bigger with white eyes, and possibly, a small crack between the stem and the pulp. The best way is to eat them as they are to fully enjoy this exotic yumminess.
Rambutan | Chôm Chôm – the Hairy Cherry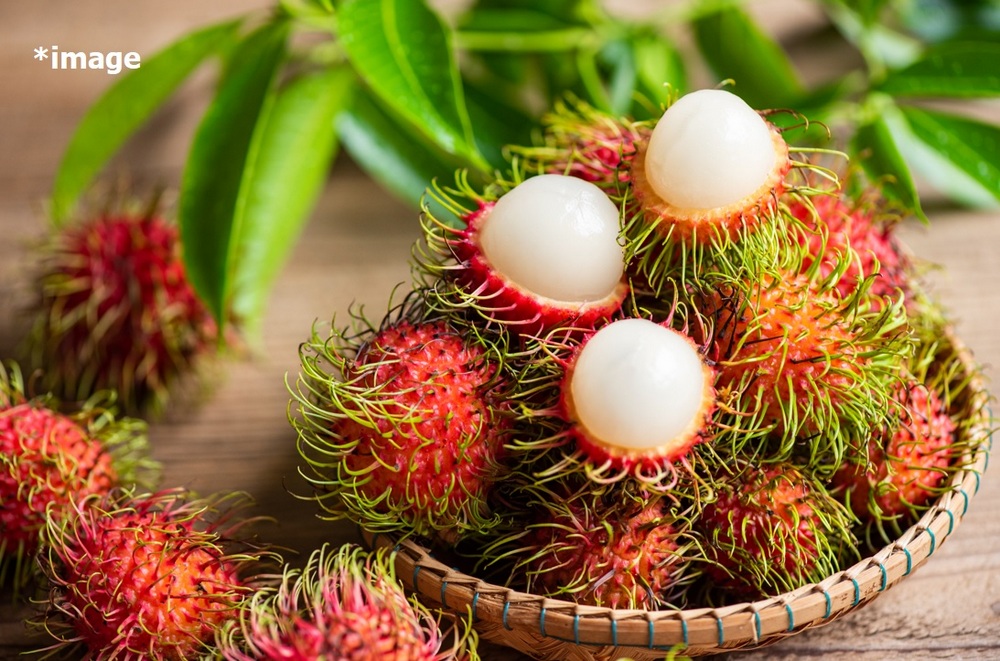 Unofficially known as Hair or Colorful cherry, rambutans are delicious as they are vibrant. Peeling their red hairy rind away reveals a soft, white, translucent flesh of rejuvenating flavor. This fruit is mostly grown in the Mekong Delta, yet you would easily spot these typical bright red colonization in marketplaces around the country.
How to pronounce it: Chôm chôm
Rambutan season: May to Oct.
How to choose and try rambutan: Best to buy when it is still attached to the branches. Be prepared, eating this one can get a bit messy due to its juicy pulp. You might bite a bit of seed exterior at first, but will get adept soon, I'm sure!
Dragon Fruit | Thanh Long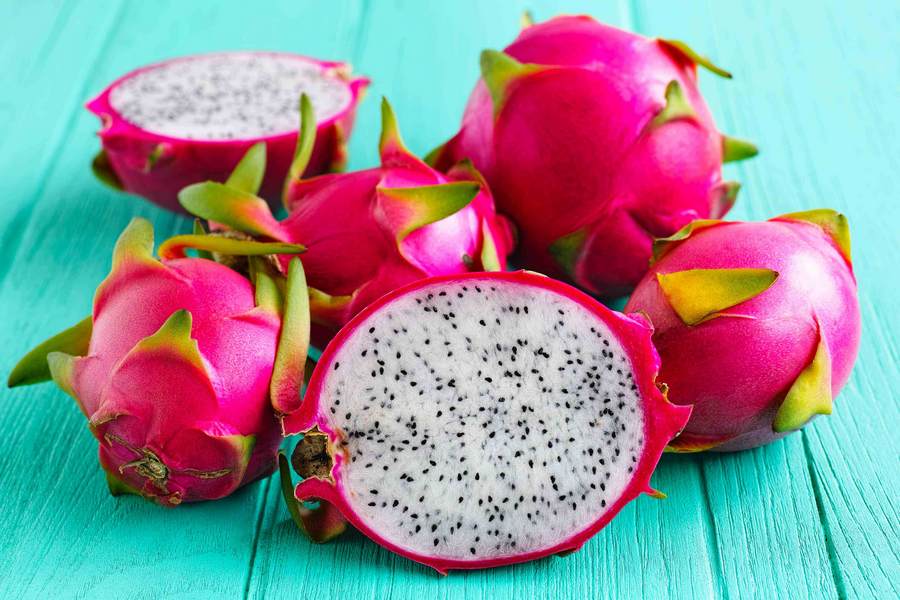 As its name suggests, this fruit has quite an unearthly look, with thick pink skin and green extensions that resemble "dragon fin". The pulp looks somehow like kiwi fruit in white or reddish color, yet the flavor is totally different. It is not very flavourful indeed, much on the watery and delicate side, hence, it is normally served at the end of a meal as a palate cleanser.
How to pronounce it: Thanh Long
Dragon fruit season: all year round
More on this: DRAGON FRUIT – A WONDERFUL "FIREBALL"
Mangos | Xoài
Among the best tropical delights, mangos come in varieties in Vietnam. Its sweet and refreshing pulp with notes of citrus, melon, and honey will leave you coming back for more. A few different ways of eating it – one national obsession is eating green mango as a savory snack dipped in chili salt or shredded to salad (gỏi xoài).
How to pronounce it: Xoài
Longan | Nhãn
A lesser-known sibling of lychee and rambutan, longan is much loved by Vietnamese for its booming sweet flavor. This fruit originates from Can Tho – Vietnam's fourth-largest city and the largest in Vietnam's southern Mekong Delta. It is called "dragon's eye" in Vietnamese for the black seed that looks like an eyeball.
How to pronounce it: Nhãn
Longan season: June to August
Best way to try longan:
Chè hạt sen nhãn lồng (sweet soup with longans and lotus seeds) is the perfect treat on a hot summer day.
Long nhãn sấy khô (Dried longan) can be brought home as gifts for your loved ones. It is actually a traditional Vietnamese medicine that support sleeps and balance. Dried fruits will last pretty long – from 6 months to 1 year if properly stored.
Pomelo | Bưởi
Pomelo is like grapefruit's parent, but with a milder taste and no bitterness. From the outside, it has the same texture as grapefruits with green and faintly yellow skin. Once you peel off its distinctive thick rind, the fresh pulp appears with little sacs of juice. You can find numerous types of pomelo around Vietnam, yet the most popular one for sweet and slightly sour taste is Bưởi Năm Roi. The pomelo is a must-have fruit in Mid-Autumn Festival and Tet – Vietnamese Lunar New Year.
How to pronounce it: Bưởi
Pomelo season: all year round, best in autumn
Best way to try pomelo:
Pomelo is often eaten raw, dipped in chili salt to taste, or put in savory salads like gỏi bưởi. For its thick bitter rind, the Vietnamese have a very wise way to sweeten it into a superb sweet dessert Chè bưởi (Pomelo sweet soup).
Gifts from pomelo:
Pomelo essential oil: this one will breathe new life to your scalp and hair for its antioxidants-rich properties. Say goodbye to hair fall!
Guava | Ổi
Amazingly rich in antioxidants, vitamin C, potassium, and fiber, guava is very much popular in tropical countries. It has light green skin with a mild sweet and sour taste. It comes in two kinds in Vietnam – either pink or white inside. The pink ones are best for juicing, and the white ones are crunchier and usually eat raw, with a chili salt mix.
How to pronounce it: Ổi
Guava season: all year round
Passionfruit | Chanh Leo
You can easily spot this purple, tennis ball-shaped fruit at any streetside cafe at any season. Inside its thick rind are a vibrant yellow jelly, edible black seeds with a refreshing aroma of lemony fragrance. It smell will definitely brighten up your day.
How to pronounce it: Chanh leo
How to try passion fruits:
Eat raw
Passion fruit juice
Passion fruit yogurt served with crushed ice
Banana | Chuối
High in potassium, fat-free and cholesterol-free, a good source of vitamins C, B6 and manganese and fiber, bananas aren't just monkey business. This tropical fruit is widely available in Vietnam, often sold in a bunch of 15 to 20 fruits, at a very good price. $2/bunch.
How to pronounce it: Chuối
Banana season: all year round
Jackfruit | Mít
Easily confused with durian, jackfruits are similar in its bumpy mossy exteriors but much different once they are open. It has a milder fragrance than durian, with a note of honey and mango, coupled with the gummy texture and sweet peachy taste. In fact, jackfruit can grow to be the largest and heaviest fruit on earth.
How to pronounce it: Mít
Jackfruit season: All year round
How to eat it:
Eat raw: tear the segment apart into strings and savor its delicate sweet taste
Hoa quả dầm (mixed fruits) or sữa chua mít (jackfruit yogurt), which usually contain a variety of tropical fruits, yogurt, tapioca pearls, and coconut cream. All add up to a sweet treat for all family members.
Dried jackfruit
Should you need further information, please contact our travel consultants at consultant@evivatour.com.vn.
See more: