In case you didn't know, Vietnam is on top of shoe and clothes export in the world. The two main reasons for it are good quality and reasonable prices. And not just domestic brands, you can also find many international brand stores here with a lot of promotions. Let find out where is the best place for Vietnam clothes shopping in these three most popular cities in Vietnam.
This article is dedicated only to clothes shopping in Vietnam. For best places to buy shoes, read the first part here.
1. A paradise for silk lovers
The one street of Hanoi you need to remember – 'The Street of Helm'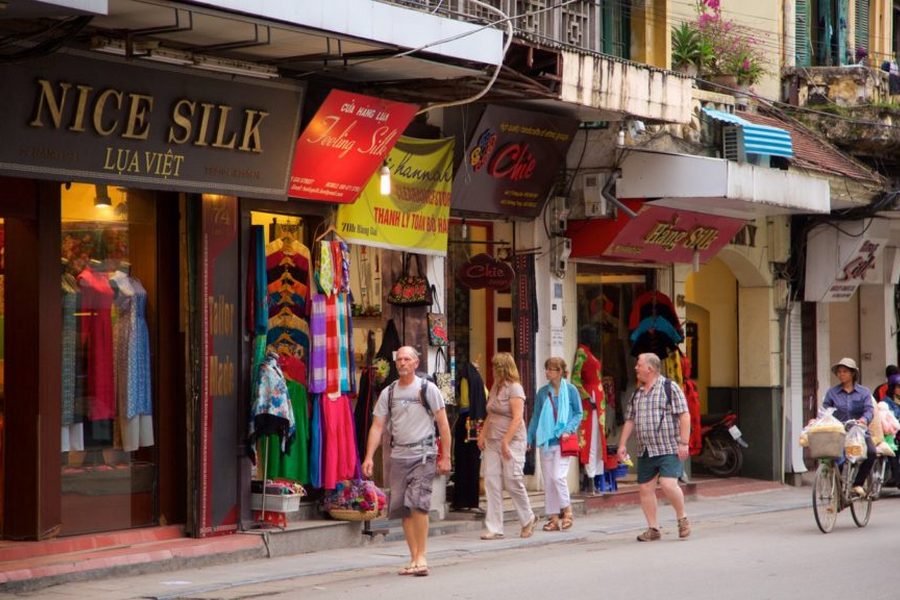 If you want to buy some silk, yes Vietnam is also famous for that, you should remember this name: Hang Gai (or Hàng Gai in Vietnamese). The street is one of the most popular streets is well-known by the locals and tourists in the Old Quarters. Like many other streets in the quarter, Hang Gai is dedicated only to one product, and it is silk. Also known as Silk Street, the entirety of this 300 metre-long street is lined with fashion boutiques and local tailor shops that have been operating for decades.
Right to the north of Hoan Kiem Lake, this is the best place in Hanoi to shop for high quality, fashionable silk materials. You can find here silk clothes, especially Vietnamese stunning traditional customs – ao dai, bags, scarves and home furnishings. You can also order personally tailored suits and dresses that are made to measure. Here you can meet from luxury stores, those with stunning decors and fix-priced high-quality clothes to the more simple ones with a good chance to practice your bargain skills. Overall, you have a wide range to choose and an interesting shopping experience.
A high-end "village" of Hoi An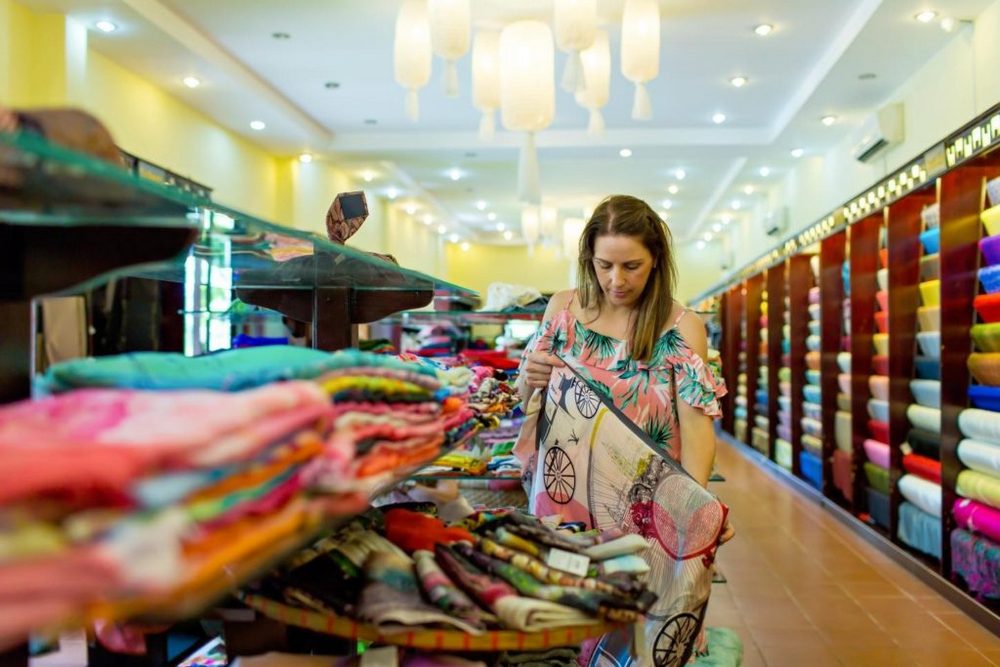 Located two kilometres northwest of Hoi An Ancient Town, Hoi An Silk Village is a good option for those looking to shop for luxury Vietnamese textiles, handmade lanterns, high-end suits and dresses. The traditional craft village also offers a tranquil getaway as it's set within the four-star Hoi An Silk Village Resort & Spa, numerous mulberry trees, horticulture farms, and lotus ponds.
There are also several ancient homes where you can learn about how silk is made with traditional methods. Hoi An Silk Village's silk showroom hosts an extensive collection of silk material, tailored suits, dresses, and jackets. Hoi An Silk Village also houses a museum which features traditional costumes of 54 ethnic people from all over Vietnam. It's not so surprising that the price range here is a bit higher than other silk shops in Hoi An. But it's well worth the extra expense since the quality is guaranteed and it's the experience that cost the most.
2. Find your casual at made-in-Vietnam-for-export stores
You may want to keep an eye out too for Made in Vietnam and 2M sprinkled all across Hanoi's streets. If the marketplaces are too crowded and noisy to you, these chains of clothes stores are probably the right place for you. These stores sell factory seconds of brand-name clothes made in Vietnam for export. The stock is variable across locations and from day to day. The clothes are quite good materials, in elegant designs and at reasonable prices. Above all, they are likely to have your size as almost all of their products are made for export. However, be careful with fake stores with lower quality clothes.
Made in Vietnam shops in Hanoi:
58 Ba Trieu St., Ly Thai To, Hoan Kiem Dist. open map
20 Hang Thung St., Hang Bac Dist. open map
56, Quan Thanh St., Ba Dinh Dist. open map
51 Dai Co Viet St., Le Dai Hanh, Hai Ba Trung Dist. open map
27 Phan Dinh Phung St., Quan Thanh, Ba Dinh Dist. open map
M2 stores in Hanoi:
3. Boutiques for some 'upscale designs' in your wardrobe
Get yourself something unique in this exotic country, why not? Unique boutiques in Hanoi offer designs from Vietnamese typical stunning silk, shantung taffeta, and embroidered fabrics. The price might at another level but in general, still at a relatively reasonable price, compared to the exported. Here are some shopping stops in Hanoi you might want to visit:
OzDesign House
"Fashion is when you put on a pretty and unique outfit that reflects your personal traits makes you comfortable and confident while others can't take their eyes off you wherever you go"
From high-quality natural hand-made fabric, Oz Design House harmonises the simplicity and purity of Asian culture with the modernity, liberation and creativity of Western culture.
Their product includes Embroidered modern-style Vietnamese Ao Dai, Daily outfits of comfy and creative style, Holiday clothes, Men's linen clothing, and Handmade accessories.
Address:
Hotline: +84-981612848
Website: www.ozdesignhouse.com
Do Manh Cuong Boutique
Paris-trained Do Manh Cuong spent his formative years at Christian Dior and Dominique Sirop in the city of lights. Return to Vietnam, he created a brand to burst out his passion in fashion.
Aiming at the young and trendy, his unique creations have received much acclaim across the country. DMC collections feature both day and night wear and all garments use premium materials.
Address:
No 213, Ly Tu Trong Street, District 1, HCMC, Vietnam open map
No 88 Nguyen Huu Huan Street, Ly Thai To, Hoan Kiem, Hanoi open map
Chula
Created by Diego and Laura in Hanoi since 2004, Chula is a hidden gem in the heart of Vietnam. The world of Chula is always filled with wonderful inspirations from every aspect in our life transformed into colourful garments, delicate use of handmade arts and artistic forms.
Each Chula design is an individual and a piece of artwork that constructed with love under graphic visuals and meticulous craftsmanship. A mixture of Vietnamese traditions and Western visions that brings two cultures into a harmonious symphony.
Address:
No43 Nhat Chieu Street, Ho Tay, Hanoi
No18 Nha Chung Street, Hoan Kiem

Dist., Hanoi

No11 Nguyen Hue Street, Hoi An

No32 Tran Ngoc Dien Street, Thao Dien, Dist. 2, Saigon
Nguyen Cong Tri
A designer with worldwide fame for his cutting-edge yet elegant women's line, Vietnamese designer Nguyen Cong Tri makes stunning evening dresses at his boutique in the middle of Saigon. This is a boutique for standout items with real wow factor. You will find here item top Hollywood celebrities like Rihanna and Katy Perry have in their closets.
Address: No194 Nguyen Dinh Chieu Str., Ward 6, Dist. 3, HCMC, Viet Nam show map
Tel: +84 2839306757
4. One place for many choices – shopping centre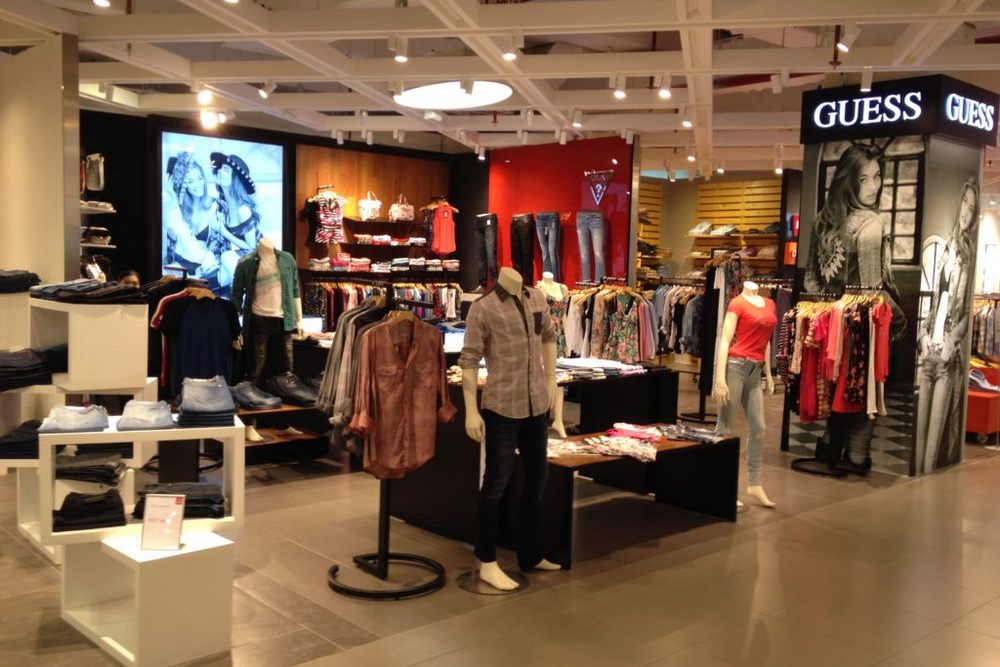 Needless to say, shopping centres is a perfect choice for many people, since they usually provide a wider range of clothes, from international brands to domestic ones. Also, you can find other things to buy here like shoes, scarves, handbags and purses, jewellery and other accessories. The prices here are fix so you don't need to bargain while the quality is much more guaranteed. For most famous centres in Hanoi and Saigon, please find in our first part.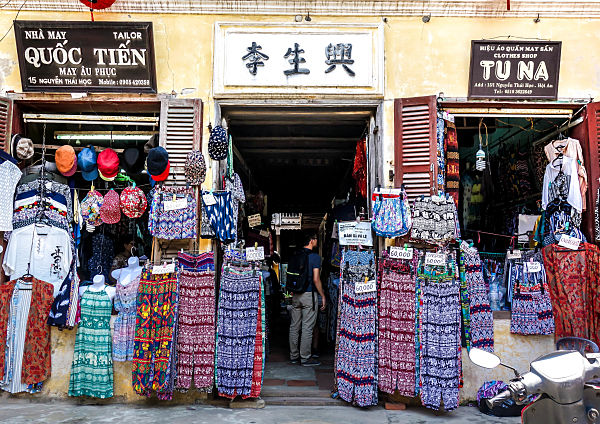 One last thing, if you just want to buy some kind of hipster-backpacker types of clothes or a fake The North Face wind coat, random shops in local markets or in the Old Quarter are the right place. These are cheap, comfortable and easy to buy. You might think you will never need these clothes, but you can't never sure about Vietnam weather, which can be extremely hot sometimes and can be freeze to bones (even for Western tourists). In such case, just head to the tourist spots in the city: the Old Quarter of Hanoi, the Ancient town of Hoi An and Bui Vien street in Saigon and you will find the exact thing you need.
The article aggregated from multiple sources.