Wondering what to buy in Vietnam as souvenirs or gifts for your family? Locals here tell us that picking on or two of these items is a definite must-do in Vietnam – they are so exotic yet practical. Let's keep your memories with this list of best souvenirs to buy in Vietnam.
This first part will include local specialties like local brands of clothes, jewelry, bags, either fair-trade textiles or handmade ones. The second part will focus more on the edible and ornamental side: Vietnamese cuisine and those little cute souvenirs.
As we put ourselves in the shoes of travelers, our criteria to choose souvenirs and gifts are: unique, Vietnam-themed, practical, good quality, and lightweight to carry home!
1. Pearls & jewelry from clam
As a tropical country with over 3000 km of coastline, Vietnam owns several coastal areas with warm temperatures, calm water – the perfect environmental conditions for pearl-bearing oysters. Experts say that Vietnam is home to some of the finest Akoya pearls with the rare blue color. For other oysters from the Pinctada family, the high nacre thickness results in a natural, creamish color and a special, high-quality luster.
Three provinces with concentrated production areas are Quang Ninh (Ha Long Bay), Kien Giang (Phu Quoc), and Khanh Hoa (Nha Trang).
Where to buy:
Ha Long Bay:
My Ngoc Tourist Center, Don Dien, Ha Khau Ward, Tel +84(0)203.3511519
Halong Pearl Farm I, Bo Hon Island, Halong bay, Tel +84(0)203.3511519
Halong Pearl Farm II, Vung Vieng, Halong bay, Tel +84(0)203.3511519
Phu Quoc:
Ngoc Hien Pearl Farm, Duong To, Phu Quoc, Tel: +84 933 221 221, +84 776 820 999
2. Shoes
In case you didn't know, Vietnam is a top exporter of shoes and clothes in the world. You can easily find pieces of good quality and reasonable prices from domestic brands and those international brands with a lot of promotions. Fake or high copy of international brands are a problem, so it is wiser and cost-effective to buy local brands. Our most famous ones are Bitis (sports and casual footwear), JUNO (women footwear). Let's spare your suitcase for these babes!
Bitis – 2018 The Evolution
Where to buy:
Bitis: Hanoi (68 Hai Ba Trung street or 8 Hang Dau street). List of outlets
Juno: Hanoi (46 Hang Da street, Hoan Kiem). List of outlets
Detailed guide: SHOES AND CLOTHES IN VIETNAM
3. Silk products
Silk was regarded as one of the finest handicraft products in Indochina. Luxurious touch, eco-friendly and good for health, silk can be great gifts for your beloved ones. In Vietnam, silk products are available in most stores around the city center in Hanoi, Hoi An, and Ho Chi Minh city. Everything from scarves to áo dàis to dressing gowns, with a rainbow selections of silk, can be bought with reasonable prices. If you are into the silk industry and have time, take a tour to the origin of silk like Van Phuc village (Hanoi) or Bao Loc village (Lam Dong). Or else, these are our suggestions for authentic Vietnamese silk shopping with best value for money!
Where to buy:
Hanoi:
Ngoc Diep Silk, 9 Bao Khanh Alley (a local hidden gem with very good price)
Hang Gai street (silk street for a variety of items)
Hoi An:
Saigon
Nhasilk, 149 De Tham Street, District 1, HCMC (best for scarves and ties)
Toan Thinh Silk 25 Cach mang Thang Tam Street, District 1, HCMC
4. Áo dài
The áo dài is a national symbol of traditional Vietnamese beauty, femininity and sophistication, especially in Hanoi. This elegant tunic consists of long sleeves, stand collar and side seam slits up to the waist and is usually worn with palazzo-style pants. Vietnamese women can be seen wearing áo dài on a daily basis in Hanoi, but it is most popular at weddings and around Tet holiday (Vietnamese New Year). The dress shirt and pants combo start at $25 per set.
Where get your ao dai tailored:
Where to buy inexpensive ao dai:
5. Conical hats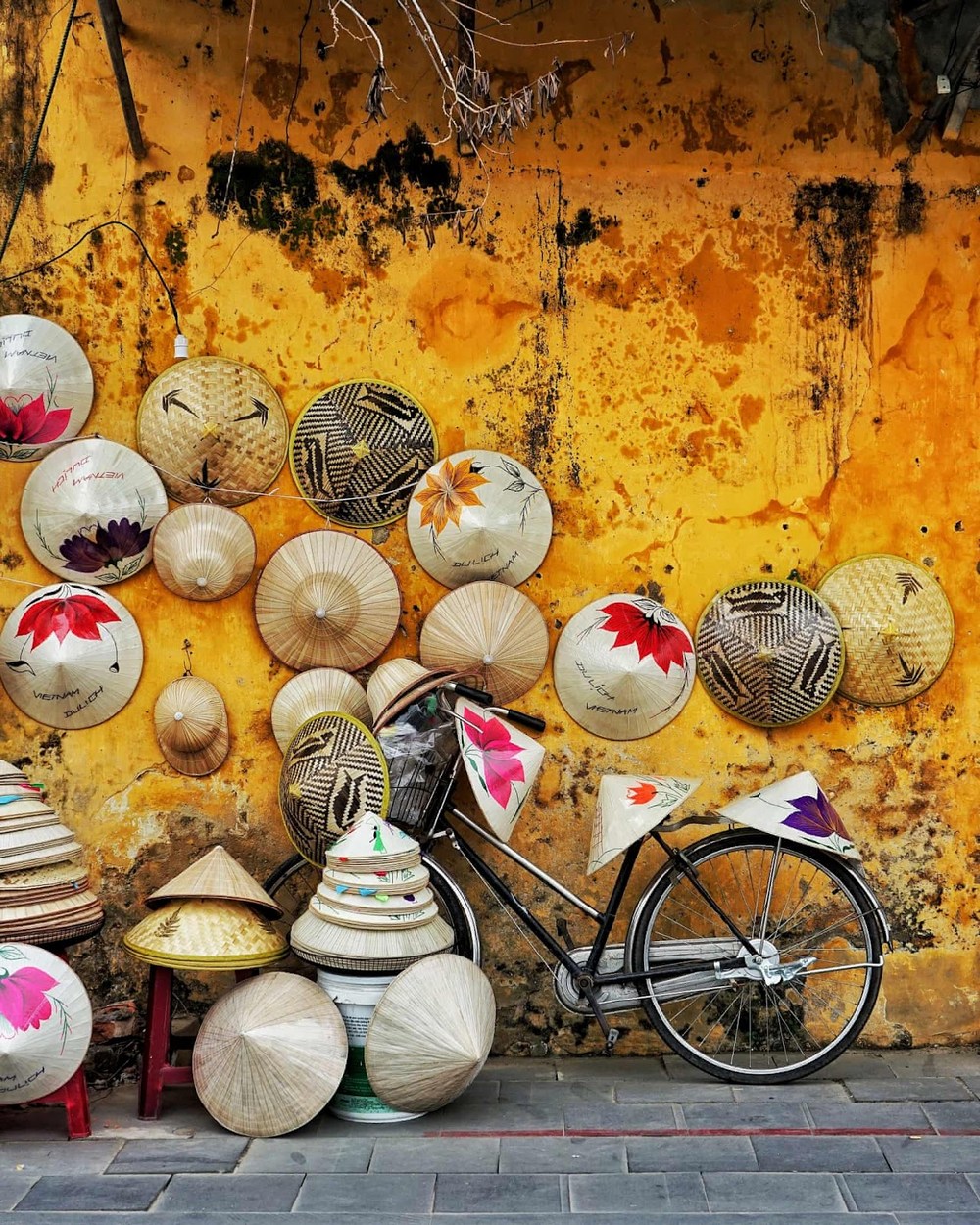 Conical hats are the most recognisable and classic symbol of the Vietnamese silhouette. The handwoven, palm leaf hat is rich with history, cultural sentiment and designed to protect people from the rain and sun. These are worn by people of both sexes and all ages although you'll see it is most favoured by those prone to working outside in markets, rice paddies and on the water. You can easily find this hat as a souvenir at any tourist attractions. Price range: around $2.
6. Clothes
Save your If you decide to buy local brands clothing in Vietnam, you'll find clothes of high quality at very good prices. Local brands, VNXK shop (VNXK means made-to-export clothes) are where you should head to. In Hanoi, go to Bò Sữa by Boo to shop for your teenage daughters and sons, as this brand is very much youthful. For a wider range of choice, head for any M2 or Vietbrother stores – you can find yourself and family pieces of value for money. Don't worry about the price, these shops are for locals. Yet, be prepared that Vietnamese size is much smaller and European.
Affordable options
Clothing for youngster and children: Bo Sua by Boo (18 Dien Bien Phu Street, Hanoi or 308 Ba Trieu Street, Hanoi)
Clothing for all family members: M2, Vietbrother (22 and 6 Dien Bien Phu Street, Hanoi), Canifa (29 Ba Trieu Street, Hanoi)
Price range: $10 – $30
Middle-range options
Clothing for all family members: May 10 (2nd Floor, 156 Ba Trieu Street, Hoan Kiem, Hanoi)
Clothing for men: An Phuoc (3 Hang Bai, Hoan Kiem, Hanoi), Viettien (25 Ba Trieu, Hoan Kiem, Hanoi)
Price range: An item starts from $25 to $100
Detailed guide: SHOPPING FOR CLOTHES IN VIETNAM
7. Products of ethnic minorities
Tribal textiles are prized possessions for tourists in Vietnam as the opportunity to see and buy such uniquely exquisite, hand-stitched craftsmanship is a rare luxury to those visiting from the West. Vietnam has a rich variety of hill tribe ethnicities (especially in the north) that relatively still makes their living the same way today as they have done for hundreds of years. Buying authentic textiles from recognized dealers helps to keep their way of life and artistic skills alive. Fabrics typically start from $15.
8. Eco-friendly Vietnamese handicraft
Authentic Vietnamese handicrafts are much environment-friendly. Look at our raincoat!
That's just for fun. Yet there is a trend to bring a modern touch to traditional designs. Born in traditional handicraft villages, these products are made of natural materials like bamboo, rattan and rice straw by local artisans. Better, they have been modernized for practical reasons and modern aesthetic. You can have a wide range of products, of different shapes and styles for you to choose from. A single purchase in these ethical shops like MadeTerra, Vuver accessories, or Craft Link, you can directly impact the community of its maker in Vietnam. A rattan bag starts from $12.
9. Thai Duong herbal shampoo
Thai Duong is a famous Vietnamese product line for hair care and beauty products. From cosmetics to toothpaste, this brand uses mostly ingredients from natural herbs with antioxidants and healing properties. One of their best sellers is the Duoc Lieu shampoo, with the haircare recipes passed down from mothers to daughters for centuries. The antioxidant properties in herbs and essential oils will detoxify your hair, while boosting strength and replenishing moisture. It helps to bring out healthy hair, lasting refreshing feeling, with forest-like aroma, and best suited for people having hair loss or baling.

Best gifts for: Female friends, a sister or your mother
Where to buy: Supermarket or pharmacy
Price: From US2$
Website: www.saothaiduong.com.vn
Their international eco-friendly version, the Nature Queen, is in growing interest of US and EU market.
10. Artwork and print
Walking along Hanoi's Old Quarter or Saigon's Dong Khoi Street, you will notice a large number of art shops selling paintings on canvas or paper. If you love to keep memories of your trip to Vietnam, just walk in and pick up one of Vietnamese propaganda posters or usually remake artwork at very reasonable prices varying between $2 and $30. Yet, if you are an art connoisseur who want a more serious look at Vietnamese contemporary art, upscale galleries around Hanoi and Saigon are where your should head to.


Hanoi:
Mai Gallery, 113 Hang Bong street, Hoan Kiem, Hanoi, +84 24 3938 0568
Nguyen Art Gallery 31A Van Mieu street, Dong Da District, Ha Noi, +84 24 3747 6001
Museum Shop and Coffee Gallery, 66 Nguyen Thai Hoc, Hanoi
Apricot Gallery, 40B Hang Bong street, +84 24 3828 8965
Art Vietnam Gallery, No. 2, Alley 66, Yen Lac Street, Hanoi, + 84 24 3862 3184, info@artvietnamgallery.com
Thang Long Art Gallery, 41 Hang Gai street, Hanoi
Craft Link, 43 – 51 Van Mieu Street, Hanoi, Tel: +84 24 37336101 (This one is an NPO support traditional artisans)
Saigon:
So, that is the first 10 fantastic souvenirs and gifts from Vietnam. Stay tuned for our next episode of handy, exotic and delicious Vietnam gifts!
---
Should you need further information, please contact our travel consultants at consultant@evivatour.com.vn.