The first type I want to recommend is Lychee. Lychee has long become a favorite fruit because of its sweet taste and attractive aroma. The lychee has a slightly rough, thin, bright red skin, the inside is a thick white pulp compared to other fabrics, the seeds are small. May of the Lunar calendar is lychee season. In Vietnam, the most delicious lychee can be found in Bac Giang (vai thieu Luc Ngan) and Hai Duong (vai thieu Thanh Ha).
The second is Durian. Durians are referred to as "The king of fruit," probably because of their fierce look and the aroma that, according to many Westerners, is the most terrible smell in the world. Durian has a very unique and characteristic scent, "Smells like hell and tastes like heaven". Durian has the dense fragrance which spreads near and far, lingers a long time before disappearing. At first, you may find durians smell extremely unpleasant. Then if you can eat it. You will love it. Sweet, a little greasy like butter. The season of Durian is from May to September. In Vietnam, you can find and enjoy the best durian in Ben Tre.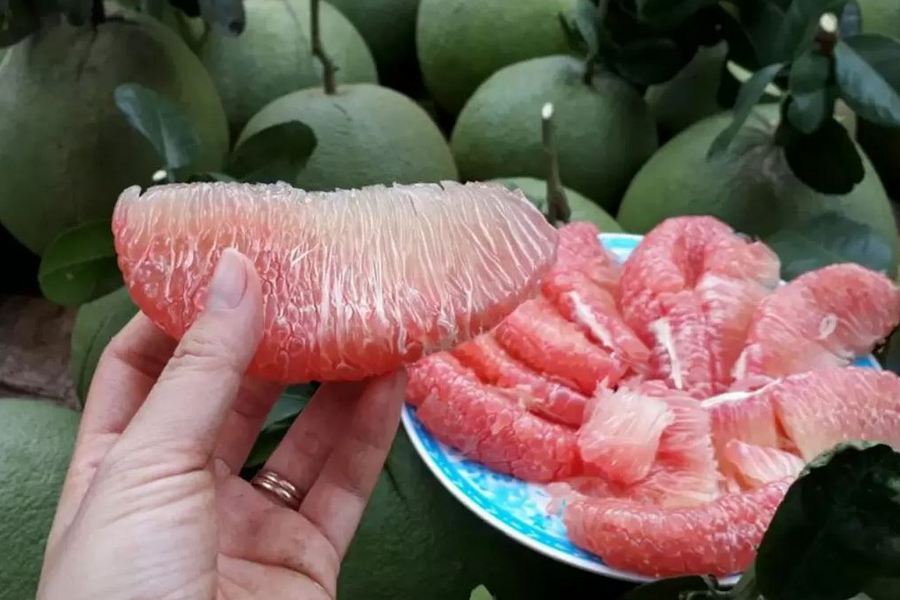 The third is Pomelo. It has a delicious taste, characteristic sweetness, succulent grapefruit segments, and few seeds. In Vietnam, the most famous are Nam Roi pomelo and Da Xanh pomelo. The Pomelos have sweet taste, strong flavour and a little sour and bitter scent.
Grapefruit season ripens from August to December every year. You can easily find round, thick-skinned, succulent pomelos in the Mekong Delta provinces.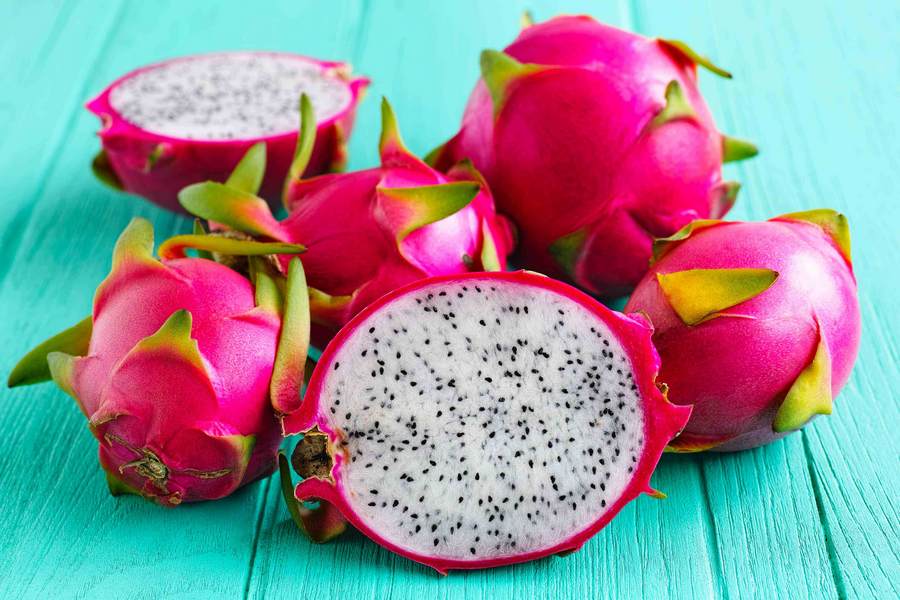 The fourth is Dragon Fruit. It tastes is succulent, with a slightly sour note, but a little sweet at the same time. The time when there are many dragon fruits and when the dragon fruit is the most delicious is October, November, April and May. Binh Thuan province is said to be the dragon fruit kingdom because it has the best climate for this fruit to grow.
The fifth is Plums. In the Northwest mountains of Vietnam, there is a special type of plum called Tam Hoa plum. This type of plum when ripe has a dark purple to black color, round fruit shape, when eaten, has a sweet taste mixed with a slight sour taste, maybe mixed with a bit of acrid taste, and small seeds inside. The plum's season is from April to late May.
The sixth is Grapes. Vietnam has quite famous Ninh Thuan grapes, while grapes also have many different varieties, but the land of Ninh Thuan seems to be extremely suitable for growing grapes. Grapes here are often divided into 2 types of green grapes and red grapes, they often have a mild sour taste mixed with sweet taste, with seeds inside and surrounded by a very thin skin. It is the unique taste and characteristics of Ninh Thuan that have created the attraction for grapes grown here. The grapes' season is April, August and December.
The seventh is Mango. The mango fruit has a slightly rounded shape with an oval shape mainly, the outer shell is golden, smooth and shiny, when smelling, it has a gentle and attractive aroma. Mangoes when ripe have a sweet taste, depending on the type, the sweetness can vary from sweet to dark. The mangoes' season is April and May. In Vietnam, you can find mangoes in the Mekong Delta region.
The eighth is Bananas. Bananas do not seem to be too strange fruits, but in Vietnam, bananas seem to become very diverse with many varieties, making a difference in shape and flavor. In Vietnam, there is a special type of banana called Chuoi Tieu Hong. Bananas are harvested all year round and are concentrated in summer and the last months of the year, near Tet holiday. Bananas have a sweet taste, easy to eat. Bananas are grown in all provinces of Vietnam.
The ninth is Tangerines. The most famous is tangerine with natural sweetness. It grows in Tra Vinh province and you can buy them easily anywhere in Vietnam. Nowadays, we can buy and eat tangerines all year round, not like in the past, only on Tet holiday.
The last is Sapodilla. As an indispensable feature in the list of specialty fruits of Vietnam, sapodilla is sweet, soft and delicious, when smelling mild, the outer shell is a bit rough but very thin, the inside has 1-2 flat seeds. Siamese persimmon is grown in many provinces across Vietnam, but the most delicious is still in Tien riverside communes such as Tam Binh, My Long (Cai Lay district), Kim Son, Ban Long, Phu Long, Song Thuan (Chau Thanh district). Sapodilla is now harvested all year round and can be easily purchased at any market or supermarket in the territory of Vietnam.
Summary, Vietnam has a lot of fruits, all kinds are rich and diverse, and can serve the needs of everyone, with different fruits and flavors.