Hanoi, the capital of Vietnam, has recently been named one of the world's top 12 destinations for fall vacations. Such an evaluation is incredibly well-deserved because this proud thousand-year-old heart of Vietnam has a variety of lovable features in the fall.
Autumn in Hanoi left a lasting impression on Vietnamese people because the air is chilly, pleasant, and exceptionally fresh, neither as hot as summer nor as cold as winter. Furthermore, the picturesque landscape seems to depict both the peaceful beauty and the hectic lives of city inhabitants. There are many fall-inspired songs like "Remember The Autumn of Hanoi", "My dear, Hanoi streets" and "Milkwood Pine Flowers", full of melodious and lyrical.
The autumnal weather maybe enhances the rustic charm of well-known tourist attractions such as the Ho Chi Minh Mausoleum, The Opera House, and the Vietnam National Museum of History. Additionally, West Lake is a favored tourist destination. Sunset is a romantic time to visit there because it is not as flamboyant as summer but has the golden hue of fairy tales.
Hanoi is also known as the city of "Hoa sua" (milkwood pine flowers) since these flowers bloom in the fall and grow in many streets like Nguyen Du, Thuy Khue, Quang Trung. They have a simple beauty, and their appeal comes from their intensely sweet aroma, although they are not as resplendent as roses or tulips. Therefore, visitors are thrilled by the delicate fragrance that permeates the roads.
Also, Hanoi's autumn is picture-perfect because of the multitude of amber leaves that fell from the tree. It is calming and liberating to stroll down the street, observe the yellow petals tumble and listen to the breeze. A trip to Hanoi in the deciduous season is not complete without having this experience.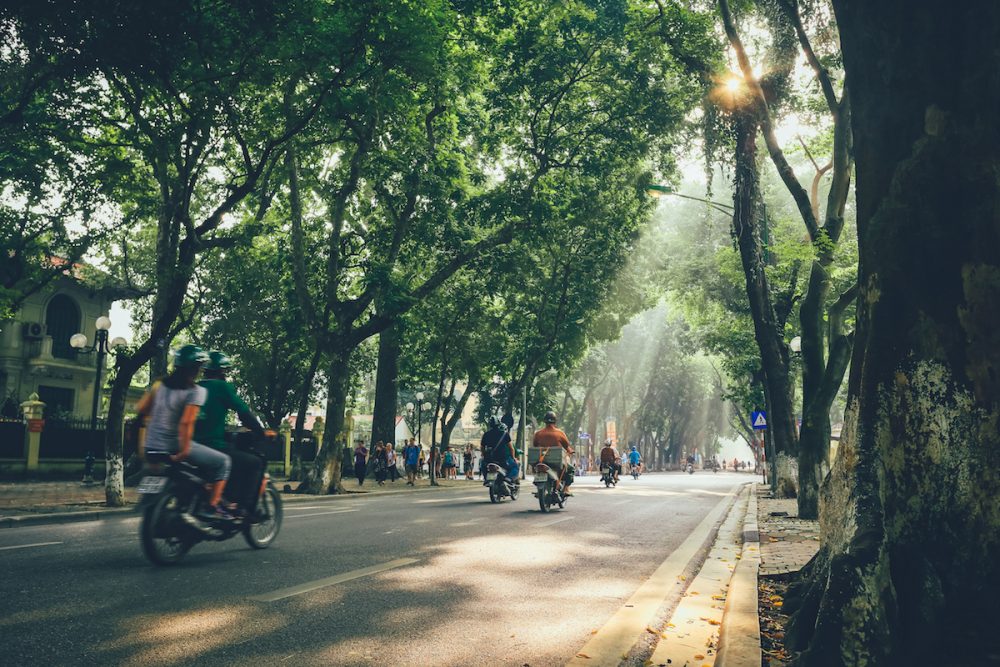 If you visit Hanoi in the fall, it will be wonderful to eat Com, a specialty or gift made from young rice of the city dwellers, sold by hawkers in the Old Quarter. In addition, autumn is the perfect time to hang out on the street and eat hot, smokey meals, especially early in the morning and late in the evening when the weather is colder. Vietnamese people enjoy the traditional cuisine of noodles such as Bun, Pho, Mien. Everything tastes good in autumnal Hanoi since it's cozy and chilly.
In conclusion, Hanoi's fall is comforting to all due to the city's clean air and distinctive color palette with the light green from milkwood pine flowers and Com, the yellow from the sun, leaves, and sunsets, and the gray and white tones that reflect the age of the city's monuments. Hanoi is truly a poetic place that travelers should experience in autumn. This city has also lately been listed at the top of the world's best locations for cycling and motorbiking. Cycling in the fall, how romany!